Scottish Cup Final showpiece for Laura and Kat
It is the final match of the Scottish women's football season this Sunday, as Glasgow City and Hibernian meet on the indoor pitch at Toryglen for the Henson Projects Scottish Cup Final, which kicks off at 3pm.

It is a suitable ending to a great season for Scottish Women's Football which has seen City reach the last 16 of the UEFA Women's Champions League and the national team move to a current high of 23rd in the world.
League Cup winners Hibernian face the Premier League Champions Glasgow City, in the final battle for the last piece of silverware and City will be aiming to re charge their energy levels after going out of the Champions League against Turbine Potsdam last Thursday to ensure a win for two players in particular.

Striker Katharina Lindner is retiring from the game and goalkeeper Laura Williamson is moving into a coaching role within the club.


Commenting on both players, Head Coach Eddie Wolecki Black said, "With Laura, she is not retiring from the game but is stepping back from playing with the first team to concentrate on a more full-time coaching role I have asked her to take up within the club. She has been an outstanding servant for her five seasons playing with City and has five Premier League championships, a Scottish Cup and two League Cup winners medals to show for her efforts so far.

"Kat, few would argue, is without doubt one of the finest players ever to play in Scotland and it has been a pleasure working with such a committed and talented athlete. She will be a big loss to our attacking options. She is fourth on our all time appearance list, starting 172 games and scoring a phenomenal 124 goals, which includes being City's all time top scorer in the Champions League.

"I would like to thank both players for their great passion and commitment to Glasgow City and although we may not see them pull on a first team shirt next season, they will still very much be a big part of this club."
The Cup Final will kick off at 3pm, with a cash gate priced at £5 adults, £2 concession or a Family Ticket can be purchased for £10 (2 adults + 2 children).
Come along early on the day and see all the youth cup finals as well, which kick off at 10.30am.
Sky Sports will be covering the goals from the match and Scotzine will be doing live audio streaming, match reports and action shots from the game.
Click on the following links for further information.
www.scotzine.com/2011/11/scotzine-taking-it-to-another-level-with-our-football-coverage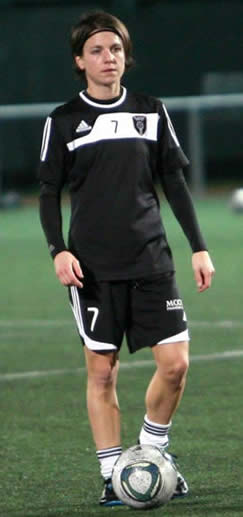 Photographs by Andy Buist (images of Kat Lindner) and Lorraine Hill (image of Laura Wills).
11.11.11