Glasgow City win Unite Scottish Cup
Glasgow City left Forthbank stadium today with the Unite Scottish Cup after a comfortable 5-0 win over Rangers.
Premier League leaders City took the lead midway through the first half, when midfielder Sue Lappin latched on to a through ball from Megan Sneddon and calmly converted past Kate Laggan in the Rangers goals. City doubled their lead a few minutes later courtesy of striker Leanne Ross who took a good first touch past the defender before stroking home.
City were totally dominant from the first whistle and Rangers did well to go in only 2-0 down at half time.
The second half followed the same pattern as the first with Rangers posing no threat at all to City. However the light blues defended extremely well and a number of excellent saves from Laggan was keeping the score respectable.
City however, went 3-0 up after excellent wing play from player of the match Katharina Lindner. German born Lindner jinked past the Rangers full back and drove into the box, setting up Ross who hit the back of the net for her second of the match. City's fourth came from substitute Jane Brown who finished brilliantly in the box after good link up from fellow substitute Ruesha Littlejohn.
Lappin then made it 5-0 with a trade mark header, just reward for having seen two previous headers cannon off the bar.
Overall, Rangers defended very well inside their penalty area and coped well with the countless corners City poured on top of them. Laggan made a number of excellent saves and the crowd lost count of the number of goal bound blocks from the brave Gers defence.
Without doubt, Rangers did brilliantly to make it all the way to the final, but with only one shot in the entire match, which was a speculative 40 yard effort which flew well over the City bar, they did not trouble the Premier League leaders who cruised to their win.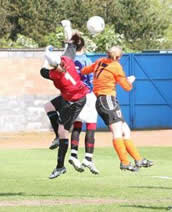 City boss Peter Caulfield was delighted with his teams win. He said, "There was only one winner out there today and I think we showed for the entire 90 minutes that we were the better side. We dominated from the first whistle to the last and our goalkeeper only touched the ball twice, to sweep at the edge of her box. The whole squad has got us this far this season and with two trophies already, we are gunning now for the all important one – the Premier League Championship – to crown off a historic treble."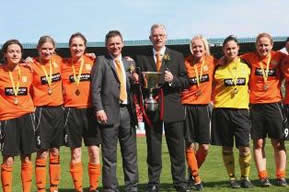 17.05.09