Glasgow City bow out of the Champions League
Glasgow City bowed out of the last sixteen of the UEFA Women's Champions League after losing 7-0 to German Champions Turbine Potsdam at Petershill.


A strong crowd of 600 turned out in force to cheer on City, which was well received by the City players and staff, given the match was now beyond them.

Despite a better performance than the previous week, City still lost heavily to the very impressive German side who represent the highest level of women's football in Europe. The ruthlessness of City's opposition was for all to see and it was of little to surprise to those that had seen the previous week's encounter when Potsdam took an early lead with two goals out of two chances in the opening ten minutes.

The first goal came from Dutch international Chantal de Ridder when she jumped on a loose ball at the edge of the box to fire a low shot past City's Lee Alexander in goals. Jane Ross had a good chance for City soon after following good play from Kat Lindner, but the Potsdam defence managed to take the sting out of Ross's shot, to prevent it troubling Berger in the Potsdam nets.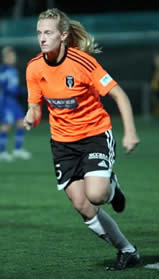 Moments later, German international Anja Mitta showed some amazing skill to put her side 2-0 up as she somehow turned and flicked the ball with the outside of her foot into the back of the net with her back to goal. It looked an impossible strike but one which summed up the highly rated Potsdam attacking midfielder.

Kristen Demann scored Potsdam's third with a wonderful strike into the top corner from outside the box and De Ridder made it 4-0 before half-time capitalising on a City defensive error.

Half time 0-4.

Mittag was clinical on 61 minutes to score her second of the match, before Potsdam scored a goal worthy of any top European match, when some quite exquisite counter attacking play tore City apart with Stephanie Draws firing home.

With two minutes left on the clock, Isabel Kerschowski scored a header from a Potsdam corner to make it 7-0 on the night.

Commenting on the match, City midfielder Lauren McMurchie said, "It is always disappointing to be knocked out of any competition, but I think we all have to recognise that we went out against one of the favourites to win this competition. German football is at a different level to almost every country in Europe
and it has been fantastic for our players to come up against some of the most talented players in the world and to see what can be achieved in the women's game. To have a club which has full time players and staff, a stadium which would be the envy of all senior men's teams in Scotland, let alone the level of sponsorship, fan base and media coverage that they have, shows what is possible and what we in Scotland need to aspire to. As a club, we have managed to not only become the first team to progress to the knock out stages, we then went on to the last sixteen. If someone had said this to us at the start of the season, we would have been more than happy with that. Having also won the Premier League again, we can now look forward to another campaign at the highest level in the UEFA Women's Champions League and already the players are looking forward to it."
Pictures by Glasgow City Photographer Andy Buist. A full picture report can be found on our facebook page @Glasgowcity Fc
11.11.11