Glasgow City are League Cup Champions
Glasgow City took the first piece of silverware of the new season when they lifted the Scottish Premier League Cup last night after defeating Spartans 5-0.


A hat-trick from striker Ruesha Littlejohn combined with a fine header from Suzanne Lappin and an excellent penalty from Captain Leanne Ross, gave City victory and maintained their 100% record so far this season.

Hat-trick hero, Ruesha Littlejohn said after the match. "It wasn't the best game and I thought we were a little bit sloppy at times, but we fought hard to win the ball back with every mistake we made. Personally it was great to score as I have struggled for a few games. The first goal, I was lucky if I am honest, but it was a great delivery from Leanne for the set piece. Getting that first goal gave me a lot of confidence and that definitely helped for the rest of the game and of course in getting the other two goals. It is a fantastic feeling to have lifted the first trophy of the season and hopefully we can build on this for the rest of the campaign both at home and in Europe in the Champions League."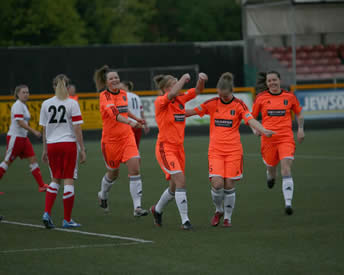 City got off to the perfect start going ahead after only 2 minutes when Ruesha Littlejohn converted a Leanne Ross corner. Ten minutes later and it was more bad news for Spartans, when Leanne Crichton delivered a terrific pass to find the well timed run of Suzanne Lappin and the City midfielder headed past Rachel Harrison in the Spartans net to make it 2-0.

It was 3-0 before half time as Littlejohn showed great tenacity to escape two challenges out wide in the box before curling an exquisite right foot shot into the top corner.

City should have made it 4-0 right on the half time whistle, but Harrison pulled off the save of the match to divert a Suzanne Malone shot against the upright. Lisa Robertson followed in on the rebound for City but blazed over from only 6 yards out.

Littlejohn earned her hat-trick on 59 minutes, controlling the ball in the box and then hitting a low left foot drive into the bottom corner.


Lappin who had already had a goal ruled offside in the first half, found the net again, this time with a header from a City corner, but referee Morag Pirie denied the midfielder her second goal of the match after ruling there was an infringement in the box.

Captain Leanne Ross made it 5-0 before the final whistle to round off an impressive victory for the Champions converting a penalty into the top corner after striker Sarah Crilly was brought down in the penalty area on route to goal.

Commenting on the match, City Head Coach, Eddie Wolecki Black said, "I am delighted for everybody at the club. I had spoken to the girls before the game and told them to cherish every Cup Final as you never know if this will be the last one you will ever play in. I think on the night, we got off to a great start and we are a very, very difficult team to beat once we get ahead. Personally I thought Ruesha and Suzanne Malone created a lot of problems for the Spartans back four, but it is not about individuals, it is a team performance and while Ruesha will steal the accolades with a hat-trick in the Cup Final, it is a team effort. In saying that, a performance like what we saw against Spartans from Ruesha has been coming in recent weeks and I am delighted she played so well on the night. There is no doubt we have had some problems with injuries and so forth, and there has been a lot of negativity thrown at the club, but the players have responded in the perfect way. It takes talent to win, but hard work to sustain it and I hope we go on and build from the Cup success to have a great season."
Pictures with thanks to Andy Buist. A full picture report will follow on our facebook site Glasgowcity.Fc

30.05.13