City Girls lift Second Division title
Glasgow City Girls won their twentieth League match out of twenty today to finish the League Campaign in emphatic style.

City's young reserves finished a quite phenomenal season on the perfect high defeating Glasgow University 6-1 to ensure their 100% League record as they officially lifted the title at Garscube.
City took the lead within the first five minutes. A poor clearance from the Glasgow Uni keeper fell straight to City midfielder Marni Russell and she did not waste the opportunity, firing am excellent 35 yard drive over the keeper and into the back of the net.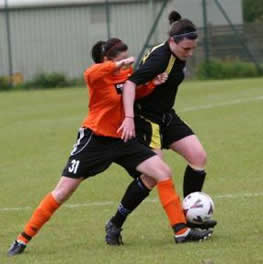 City's young guns then went 2-0 up through striker Shawnie McGeechan. Good wide play from Russell saw the midfielder send in a fine cross which McGeechan finished well with the outside of the right boot.
Five minutes later and City were three goals ahead, with Russell involved once more. The midfielder played an excellent through ball, splitting the Uni rearguard and Mel Stirling cut in from wide to collect the pass, before coolly slotting past the goalkeeper.
McGeechan then got her second of the day and fifth of the season with a similar strike to her first. This time the play came down the right, with Stirling crossing low for McGeechan to convert from close range.
Just before half time, an uncharacteristic error from the City rearguard saw a breakdown in communication allow Glasgow Uni back in the game.
Half time 4-1.
In the second period, City restored their four goal cushion with substitute Lyndsey Anderson proving her good eye for goal once more. A good passing move from City brought Anderson into play just inside the Uni box and the striker hit an unstoppable drive to make it 5-1 to City.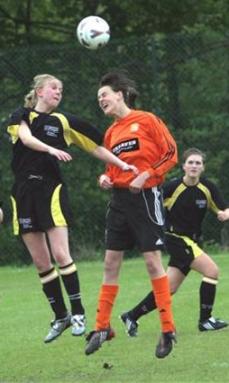 City's fine day was complete when ever present centre half Caroline Paterson raced on to a pass from Anderson to slot home and score her first ever goal for City.
Girls Manager Richie Evans was over the moon for his side.
He said, "What can I say? Twenty games and twenty wins. 118 goals scored and six goals conceded. The Second Division title and the Football League Cup. I am so proud of these players. They have made history this season and to think how young they all are makes it even more amazing. To be honest, today we could have played a lot better, but I cannot criticise because the hard work was done before this match and today they simply had to enjoy it. My hat goes off to Glasgow University as they are by far one of the most hospitable teams in our league and they made us feel very welcome today at their home pitch. The season is over and the Girls can now relax and enjoy themselves. We have a lot of hard work to come for next season, but we will let them have a few weeks off first!"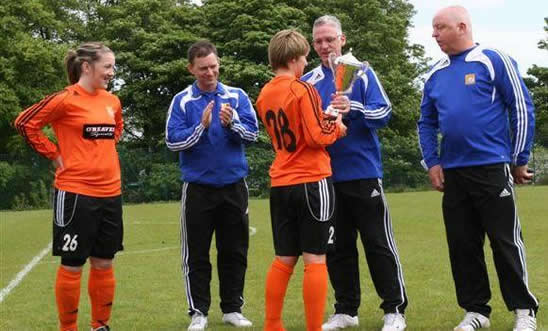 24.05.09