A last minute goal gives Glasgow City the win over Celtic


A 90th minute wonder goal by Glasgow City defender Eilish McSorley gave City a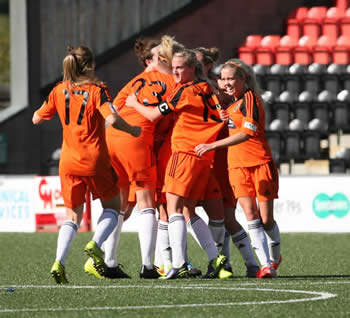 1-0 win over Celtic in a tight contest at Airdrie Excelsior Stadium, sponsored byBirrells Bar in Redding, Falkirk.

City Head Coach Eddie Wolecki Black juggled his pack once more as his side aimed to cope with three massive matches in seven days and City looked lethargic at times against a strong and hard working Celtic side. In a first half of few clear cut chances, it was Fay who was the busiest of the two keepers, coming well for corners and crosses into the box and denying Courtney Whyte and O'Sullivan in particular who carved out City's best opportunities of the first period.

Celtic's best moment came when a short headed back pass from City was pounced upon by Abigail Harrison, but Niki Deiter did well to save well twice from the young striker as she tried to open the scoring for the away side.

In the second half, City edged the game on chances with Leanne Crichton enjoying one of the best as she picked out a superb pass from McSorley only to be denied yards from goal by in form Celtic stopper Fay. Denise O'Sullivan was close to finishing a few openings for the home side, but on each occasion
was thwarted by the Celtic rear guard. Abbi Grant also had a great chance in front of goal after being played in by Fiona Brown but she shot wide when perhaps she could have done better.

Celtic came close to opening the scoring through Emma Brownlie, but Deiter in the City nets pulled off a fine stop to turn Brownlie's shot from the edge of the box round the post for a corner.

With full time approaching, McSorley collected the ball out on the left hand side, stepped forward and rifled a 40 yard strike into the top corner leaving Fay with no chance. City were then forced to see out the remaining five minutes of added time without Abbi Grant, who went of injured, but held on to maintain their 100% record in all competitions and move 12 points clear at the top of the SWPL with six games remaining.

Glasgow City are back in action next Sunday when they take on Aberdeen at Airdrie Excelsior Stadium, 2.30pm.


Commenting on the win, City boss Wolecki Black said, "There is no doubt we knew it was going to be a tough week, infact it has been a tough month. We have had seven games as a club in August alone and if you add international games, most of our players are close to double figures. So we knew it would be difficult. With Hibs, Rangers and Celtic all in one week it was similar to earlier this season when we played the same three teams in seven days. Once more Celtic have benefited from being the last game. I rotated the squad around to try and freshen things up and that was always going to affect the
fluency of our play. At half time I said to the players we needed to play with more urgency and tempo in our play and making the three subs we did in the second half helped that. It was a magnificent goal to win it. People sometimes question if City have lost the hunger and you only need to see the reaction from the players when that goal went in to see how much it means to everyone. We took a lot of heavy knocks this week, so we will have a few days off and be fresh for the Aberdeen game next week."
Match sponsor Birrells Bar Player of Match - Denise O'Sullivan.
Pictures by Andy Buist. A full picture report will follow on our facebook page.
31.08.14