A last minute goal gives Everton a narrow victory over City
Glasgow City continued their pre-season preparations with a 3-2 defeat against top-flight English side, Everton, at Petershill Park this afternoon in a match sponsored by ng homes.
The City goals were scored by Denise O'Sullivan (29) and Leanne Ross (75), but a double from Nikita Parris (42 & 90) and a Simone Magill strike secured victory for the visitors.

Commenting on the match, City Assistant Coach, Donald Jennow said, "The first 20 minutes I thought we really struggled to get going and were not up to the pace of the game. We settled after that and I felt we probably had the better of the remainder of the first half. After the break, we improved and were more up to the tempo of the game and enjoyed what was a competitive match against a good Everton side. The goals we conceded from our point of view were very poor. Individual errors and set pieces are never good ways to concede goals. Ultimately though it is pre-season and our main objective was to get minutes under our belts and fitness up for the domestic campaign and we achieved that. What was also pleasing was the number of debutants we managed to field today, which shows that our youth performance academy is working very well.

The match was scrappy to begin with as both sides struggled to maintain sustained possession. Gradually, Everton began to take control and were first to carve out a real opportunity after 25 minutes. The home side struggled to deal with a teasing low cross and Kelly Jones fired over with the goal at her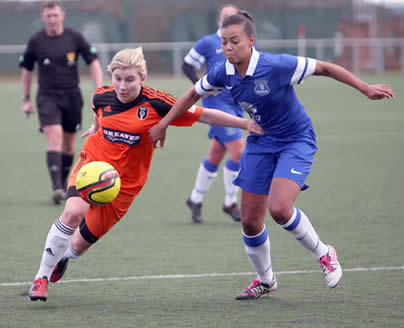 mercy. Brooke Chaplin was next to try her luck for the English side, but her curling right-foot effort drifted past the post.

It was City who secured the breakthrough after 29 minutes. Everton failed to clear a corner and Denise O'Sullivan lashed in a low drive from the edge of the box to beat Megan Walsh in the Everton goal. This settled the home side, and they began to exert pressure on the visitors' back line with Eilish McSorley and Jo Love both testing the keeper.

With half time approaching, Everton equalised. A fantastic left-footed in-swinging corner from Danielle Turner fell to the feet of Parris, who swivelled and stabbed the ball into the net.

The second half got off to the worst possible start for City as goalkeeper Alexander's misdirected pass landed at the feet of Everton player, Simone Magill, who stroked the ball into the unguarded net to give the Blues a 2-1 advantage.

The match continued to be a tight affair with clear chances at a premium, but City eventually drew level after 75 minutes. A wicked right-foot corner from ng homes Player of the Match Leanne Ross, evaded everyone in the box and flew into the net with the Everton goalkeeper helpless.

Both sides searched for the winner, but with time running out, Everton struck a last minute blow. Another threatening left-foot corner from Turner caused chaos in the City box and a scramble ensued before Parris nudged the ball over the line to claim her second goal of the afternoon.

It was tough for City who handed three starting players their home debuts; Alyshia Walker, Abbie Grant and Megan Mason. A number of youth players were also handed debuts from the bench late on, providing them with valuable experience against quality opposition. Overall, the club fielded 9 debutants, with 7 players under the age of 17 years old, showing that the future is looking very bright indeed for the Scottish Champions.

Glasgow City will complete their pre-season schedule when they take on the re-launched English side, Manchester City, at Petershill Park next Sunday at 2pm. The ambitious English outfit should provide a stern test having recently recruited England Internationals, Jill Scott, Toni Duggan, Steph Houghton and goalkeeper, Karen Bardsley, ahead of their inaugural season in the FA Women's Super League.

Tickets are available for that match from the Glasgow City website, or spectators can pay on the day at the turnstile.

Teams:

Glasgow City: L Alexander, E McSorley, J Love, D O'Sullivan, A Walker, N Docherty, M Mason, E Black, L Ross, A Grant, J Nelson.
Subs: L Hamilton, C Whyte, L McCall, L Leslie, M Welsh, C Boyce, J Melrose.

Everton: M Walsh, B Chaplen, F Whelan, M Hinnigan, N Parris, S Magill, K Jones, D Turner, C Hayes, A Kane.
Subs: K Levell H Schebuer, L Whipp, G George, K Brannigan, K Brand.

Referee: Dr John McKendrick. Assistants: Donni McKinnon, Steven Johnston
ng homes Player of the Match: Leanne Ross

Match report by Graham Semple
Pictures with thanks to Andy Buist. Top to Bottom - City celebrate Leanne Ross equaliser, Alyshia Walker in action on her debut, City defend an Everton corner, ng homes Player of the Match Leanne Ross.
16.02.14